Note: This novel is the third novel in the Commissario Ricciardi series.  Like the others in the series, it can be read and enjoyed separately.
"He had scrupulously kept himself at a safe distance from all passion.  He'd walled emotions out of his life, keenly aware as he was of how love could destroy and corrupt.  Every grave in every cemetery is full of love, he thought.  And so the best thing to do is to remain alone and observe love from a distance…And yet, for the past few months this distance had been growing narrower…"—description of Commissario Ricciardi.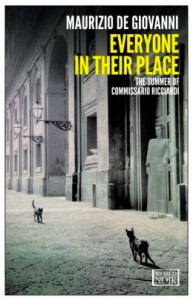 Commissario Luigi Alfredo Ricciardi must deal with his personal ghosts and memories at the same time that he is also working to solve murders as head of the Department of Public Safety in Naples during the reign of Benito Mussolini in 1931.  Ricciardi, a compulsively private man who shares nothing about his life with those he works with, lives in his family's home in Naples with his Tata Rosa, who has taken care of him all his life. The orphan of aristocratic parents, Ricciardi has no siblings and no life outside of his office.  Each night for the past year, his only real enjoyment has been peeking out his bedroom window and across the way to the sitting room of Enrica Colombo, a pleasant-looking young woman who tirelessly works on her embroidery. Enrica and Ricciardi have recently begun exchanging shy waves to each other from their respective windows, but though they have met once, by surprise as part of an investigation, they have never spent a private evening together except behind window panes.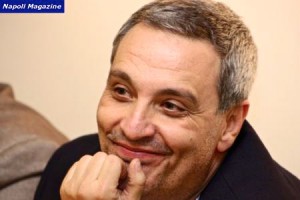 Neapolitan author Maurizio de Giovanni, exceptionally sensitive to all his characters and their stories, so clearly identifies with his "people" that he never hits a false note as he develops the action and shows their reactions to what life has in store.  Horrific murders take place, and his characters show their weaknesses and personal traumas, but this novel, like the others in the series, is more of a "people novel" than what one usually thinks of as "noir" or "hard case crime."  De Giovanni is clearly enjoying himself – having fun – as he writes, and while there is little obvious humor here, there are moments that are almost farcical, especially with some of the subplots involving love.  Throughout, the author's smile is often easy to hear in his "voice" as he tells the stories within the stories here.
Everyone in Their Place, subtitled "The Summer of Commissario Ricciardi," suggests that the Commissario himself may finally open up to life's pleasures during this especially hot summer, perhaps allowing himself to feel the blossoming of love. The Commissario, however, has a unique, supernatural ability (or curse), one which gives him direct access to the mystery of death, and he is fearful of involving anyone he might love in the problems he faces daily as a result of his tormenting insights. If Ricciardi spends a few moments alone with a murder victim at the crime scene immediately after a death, he makes a direct psychic connection with the victim.  He is able to hear the victim's last thought, the one which comes at the very moment when the victim knows that the angel of death has arrived. Ricciardi recognizes these puzzling and even terrifying statements as a unique trust, one which he accepts with almost religious dedication.
As the summer gets hotter and hotter, the conflicts become more and more intense and lead to murder associated with the theme of love.   Brigadier Raffaele Maione, Ricciardi's long-time assistant and the one person Ricciardi feels he can trust (though he never actually confides in him), has finally decided to lose weight.  Over two hundred sixty-five pounds, he wants his dieting to be a secret from his wife, an outstanding cook, so he volunteers to work on Sundays and at times when he would normally be enjoying her ragu and special pastas.  She, however, sees that he is avoiding her, and she panics.  Meanwhile, Enrica Colombo, who believes she loves Ricciardi from afar, is hoping that someone will introduce her to him socially.  At the same time, her family has decided to choose a suitor for her.  The beautiful Livia Vezzi, widow of the world's greatest tenor, who was murdered at the San Carlo Opera House (in I Will Have Vengeance, the first novel of the series), has decided to take an extended holiday in Naples.  She, a noted flirt, wants to find out why Commissario Ricciardi, who investigated her husband's murder, had been so indifferent to her allure – and she decides to work her wiles on him now.
The eventual murder of Adriana Musso, the Duchess of Camparino, who had been having an extramarital affair, involves Ricciardi and Maione in an investigation into the secret aspects of her life when Ricciardi overhears her last thoughts.  Adriana, her bedridden and dying husband Matteo, and her stepson Ettore, who hates her, have been living in their generations-old palazzo across from the church of Santa Maria La Nova, but their separate lives have taken them in different directions.  The son leads a mysterious intellectual and social life and does not hide his on-going hatred for Adriana. Ricciardi  tirelessly seeks the guilty party in Adriana's murder, even when he is warned by his superiors to beware of alienating "important people" in the government of Mussolini as he investigates, and the full impact of the power of the elite, even at the expense of justice, becomes clear.  Throughout the novel, anonymous characters from other levels of society give a broader picture of life in Naples through their first person comments about their lives and their gossip about other characters in the novel.  Though the reader may be hard pressed at the beginning to identify who is who, their identities later become clear.
Emphasizing the effects of Benito Mussolini's philosophy on the populace in 1931, the characters throughout the novel represent very different social backgrounds and confirm the perceived importance of everyone staying in "their place."  The servants in the household of Matteo Musso, the Duke of Camparino, and his wife Adriana have no choice but to stay in their "places" if they want to survive and keep their jobs, but even Ricciardi must be careful.  Author Maurizio de Giovanni keeps the tone light, even as he explores murder and the most serious aspects of Italian social and political history in 1931, and the reader, carried along by his attitude, follows, too, so intrigued (and often charmed) with his characters, and Commissario Ricciardi, in particular, that the wait for the next novel  seems very long.
Note: Also by Maurizio de Giovanni:  I WILL HAVE VENGEANCE (#1, Winter),       BLOOD CURSE (#2, Springtime),        THE DAY OF THE DEAD (#4)        BY MY HAND (#5),      VIPER (#6),     THE BOTTOM OF YOUR HEART (#7),       GLASS SOULS: MOTHS FOR COMMISSARIO RICCIARDI (8),     NAMELESS SERENADE (9)
Inspector Lojacono series:    THE CROCODILE (#1),     THE BASTARDS OF PIZZOFALCONE (#2),    DARKNESS FOR THE BASTARDS OF PIZZOFALCONE (#3),    COLD FOR THE BASTARDS OF PIZZOFALCONE (#4),     PUPPIES (#5)
Photos, in order: The author 's photo is from http://www.napolimagazine.com.cn
The photo of Naples with its crowded neighborhoods, by James Martin, appears on http://goeurope.about.com
Santa Maria La Nova, across the street from the Palazzo of the Duke and Duchess of Camparino, is shown on   http://pl.wikipedia.org/
The San Carlo Opera House may be found on the website of http://robertarood.wordpress.com
Benito and Rachele Mussolini and their family, including their daughter Edda on http://www.historyinanhour.com/
ARC: Europa

EVERYONE IN THEIR PLACE

REVIEW. Italy, Mystery, Thriller, Noir, Social and Political Issues

Written by: Maurizio de Giovanni

Published by: Europa Editions

Date Published: 11/05/2013

ISBN: 978-1609451431

Available in: Ebook Paperback