"I can't believe it, that I actually did it. But it's true, I really did. I didn't want to, I wasn't planning it. I thought we'd talk…and that you'd come around. That you'd say all right, I understand…you're right, you win. We'll end this, and then I'll leave…I thought that maybe it wouldn't even be that hard to make you see reason. But instead, instead: no. You're a stubborn woman. Or you were." –the murderer of Cecilia de Santis Festa.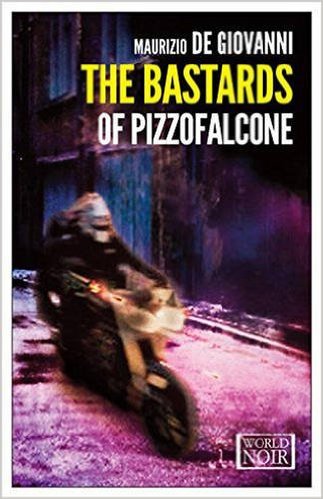 Maurizio de Giovanni, whose Neapolitan noir novels have sold almost a million copies, may be the only author who has ever featured a murder committed with a "snow globe" containing a hula dancer playing an ukulele. Famous primarily for his series of seven noir mysteries set in Naples during the rule of Benito Mussolini and featuring Inspector Luigi Alfredo Ricciardi, de Giovanni has also developed a second series, this one set in contemporary Naples. Following the  The Crocodile, the most violent and horror-filled of all de Giovanni's novels, The Bastards of Pizzofalcone (#2), the second in the Lojacono series, includes some of the author's trademark elements of dark humor and irony, missing from The Crocodile. Returning to the character-based novels which made the Ricciardi series so popular, de Giovanni develops a large cast of characters, who may become "regulars" in future novels. These include four "damaged" police officers, the "bastards," who have been assigned to work in Pizzofalcone, a steep, hilly area to the southwest of central Naples. All have had career problems and must now prove themselves in Pizzofalcone, where a widespread scandal involving police corruption and connections to the Neapolitan Mafia, known as the Camorra, has led to massive dismissals. These new officers will have only a short period of time to prove their worth or they will be dismissed and the Pizzofalcone precinct closed.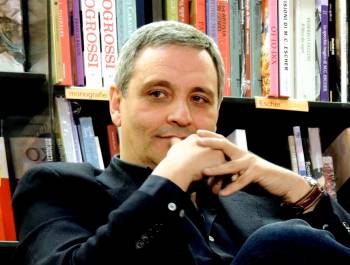 Giuseppi Lojacono, the most experienced of the four "bastards," was sent to Naples from Sicily after a low level member of the Sicilian Mafia turned state's witness and testified that the innocent Lojacono, who had been particularly effective in rooting out crime, was, in fact a Mafia informant. With no evidence against him, Lojacono could not be tried and was shipped to Naples to work at the San Gaetano precinct, languishing with nothing to do until he began investigating the case of "the Crocodile" on his own, eventually solving it and gaining, on some level, a little respect. Because he was not part of the investigative team assigned to the case, however, he angered many long-time officers at the precinct, jealous of his success, and when someone with his skills was needed in the Pizzofalcone precinct in Naples, he was shipped out. Lonely and isolated, with his family, including an ex-wife and daughter, back in Sicily, Lojacono is the most experienced – and most mature – of the four new hires at the Pizzofalcone station. When a much-admired woman is murdered with a "snow globe," he and his group of three other "failures" become the investigative team.
Partnering with Lojacono is an "overgrown kid," Corporal Marco Aragona, whose skin was "a vaguely orange hue," someone who "spends a lot of time in a tanning bed and dresses like a TV detective." A maniac behind the wheel of a car, Aragona has been kicked off two bodyguard details, and has already been rejected by everyone at headquarters, but as he is the grandson of a prefect, no one can fire him. Alessandra Di Nardo, an officer first class who has just been transferred to Pizzofalcone, excels at marksmanship, but that skill is her undoing when a shot is discharged from her pistol in the precinct station "in circumstances that remained murky." She will be working directly with Francisco Romano, known as "Hulk," someone who cannot control his own strength, much less his anger. "The third time he grabbed a suspect by the throat, they suspended him. When he went back on duty they sent him straight [to Pizzofalcone]." Two long-term officers – Giorgio Pisanelli, who, on his own, investigates suicides he thinks may be murders, and Ottavia Calabrese, who works long hours to escape family problems, are "desk jockeys" with little experience in the field, but they know the area and will serve as local resources for the two-person teams who will be actively investigating crimes.
Lojacono and Aragona soon become involved in the "snow globe murder" of Cecilia de Santis Festa, the highly respected, wealthy wife of Arturo Festa, whom she met when they were both in college many years ago. Without any financial resources of his own, Festa was able, through his wife's contacts, to become the most prominent notary in the area. In recent years, he has had a series of mistresses, one of whom gives him an alibi for the night in which his wife was murdered. While they are investigating this murder, Alessandra Di Nardo and Francisco Romano take a call from a crippled, old woman, Donna Amalia, who spends all day looking out her window at an apartment across the way. She has become convinced that the pretty, young woman living there is being held captive, as the shades are always closed, no one comes to answer the doorbell, the woman never goes out, and none of the local shopkeepers make any deliveries of food or other goods to the apartment. De Giovanni's description of this old woman explodes with dark humor, and her hilarious descriptions and commentary will keep readers amused, even as they recognize her insights into personality. When Alessandra and Francisco investigate the plight of the young woman, their shared activities help them both develop important new understandings.
Throughout the novel, various unidentified characters, including the murderer, comment on their lives in italicized passages.  As readers come to know more about the police and others involved in these cases, the specific descriptive details in these sections eventually allow the reader to identify the speakers and provide more intimate understanding of their thoughts and motivations.  Dense with characters, the novel is light on action, but if one goal of this novel is to provide an introduction to characters who will repeat in new novels in this series, it is completely successful. While the novel is great fun to read, the conclusion may disappoint some readers, with many red herrings involving many characters. Surprises are always expected in mysteries, but the events leading up to the big revelation regarding the murder here may be too out-of-the-blue to ring true to many readers. Ultimately, the quotation used to introduce this review takes on new and ironic meanings when the murderer claims that "I can't believe it, that I actually did it." Frankly, I couldn't, either.
ALSO by de Giovanni, Lojacono series:    THE CROCODILE (#1),    THE BASTARDS OF PIZZOFALCONE (#2),     DARKNESS FOR THE BASTARDS OF PIZZOFALCONE (#3),     COLD FOR THE BASTARDS OF PIZZOFALCONE  (#4),    THE BASTARDS OF PIZZOFALCONE (LOJACONO #5)
Insp. Ricciardi series:  I WILL HAVE VENGEANCE (#1),     BLOOD CURSE (#2),     EVERYONE IN THEIR PLACE (#3),     DAY OF THE DEAD (#4),     BY MY HAND (#5),     VIPER (#6),     THE BOTTOM OF YOUR HEART (#7),     GLASS SOULS: MOTHS FOR COMMISSARIO RICCIARDI (#8),      NAMELESS SERENADE (#9)
Photos, in order:  The author's photo appears on http://tuttiicoloridelgiallo.ch/
The snow globe, which becomes a murder weapon here, is from http://www.ebay.tv
The steep ramps of Pizzofalcone, seen on http://www.panoramio.com,  is a photo by Frank Gilbreath on http://www.panoramio.com/user/
The funicular, with its diagonal cars and stepped platforms, allow patrons to enter on a level.  http://onthegrandtour.blogspot.com/     Over ten million people a year use this ride to deal with the steep hills in Naples.
ARC:  Europa Editions
THE BASTARDS OF PIZZOFALCONE

REVIEW. Photos, Italy, Mystery, Thriller, Neapolitan Noir, Social and Political Issues |

Written by: Maurizio de Giovanni

Published by: Europa Editions

Date Published: 04/05/2016

Edition: World Noir Series

ISBN: 978-1609453145

Available in: Ebook Paperback