Note: Indridason was WINNER of the Glass Key Award for Best Nordic Crime Novel in 2002 and 2003, and WINNER of the Gold Dagger Award from the Crime Writers' Association in 2005.
"Outsiders like you can never really understand what it's like to live here.  Even if I explained it to you, it would only be a fraction of the truth.  And that fraction of the truth would be seen as a lie by Haddi down at the filling station, for instance.  Even if you spoke to every single person – and spent twenty years doing it – you'd never get more than a tiny glimpse…"—Valdimar to Elinborg.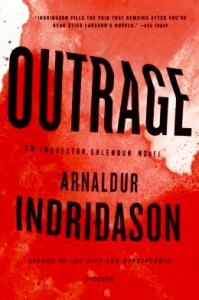 The cover description of this novel as "An Inspector Erlendur Novel" is misleading, especially for long-time followers of the dark and damaged inspector from Reykjavic and his grim and often grisly investigations.  Erlendur, in fact, does not appear at all.  At the end of Hypothermia, the previous novel in the Erlendur series, he has left to go hiking in the sparsely populated East Fjords, taking a break from his personal problems and the frequently horrific problems involving his children, his former wife, and their relationships with him.  No one has heard from him in almost two weeks, not even the sympathetic Valgerdur, a woman who empathizes with him and cares deeply.  With the competent Elinborg in charge of the office, Erlendur may be, once again, off seeking the remains of his younger brother, who disappeared at the age of eight when the two were caught and separated by a huge snowstorm, leaving Erlendur bereft, unable to form any close attachments since that traumatic event.
Elinborg is quite different from Erlendur.  Living with the supportive Teddi and their two children, Elinborg is a cookbook author, specializing in desserts and working on her second cookbook, and she tries to keep the lines of communication open with her children, though her older son, in his late teens, is something of a mystery to her, at this point.  Despite her family responsibilities, she travels Reykjavik and its surrounding areas, investigating crimes, some of them bizarre, and tracking down criminals, many of whom are protected within the small, closed communities in which they have spent their lives.  Were it not for the nature of the crimes themselves – in this case, the rapes and disappearances of women, the use of rohypnol (the "date rape" drug) to paralyze victims, and a gruesome murder which opens the book – Outrage would come as close to a "cozy" as the darkly noir author Arnaldur Indridason is probably capable of writing.  The twisted and often macabre aspects of life seen in the book (and film) of Indridason's Jar City, for example, have been softened here, reflecting the more feminine, intuitive approach of Elinborg and her efforts to communicate wherever possible with both victims and perpetrators, as she works to solve crimes.  As a result, this novel is more thoughtful, and, frankly, "tamer," than the acknowledged noir prize-winners of Jar City and Silence of the Grave, though Outrage, with its different style, has its own charms and will appeal to many newer readers.
Within the first dozen pages, Elinborg has already been called out to investigate a murder scene in Thingholt, a stabbing so bloody that the victim, a young, single man named Runolfur, is almost ex-sanguinated, his blood saturating his apartment in Thingholt, just outside the center of Reykjavic.  He is wearing a too-small woman's tee-shirt, emblazoned with the words "San Francisco," and other evidence in the apartment suggests that a woman shared his bed just before the murder. A shawl is found under the bed, and Elinborg, a chef, is intrigued by the fact that the shawl smells of tandoori, an Indian food rare in Iceland (not the kind of clue that Erlendur would ever notice). Though Runolfur kept an exceptionally neat and impersonal apartment, with no photographs and no books, he did have several large, framed posters of superheroes and a collection of the superhero figures.  Surprisingly, he had ingested a large amount of rohypnol, and his connection to drug dealers is quickly determined.
The rohypnol connection reminds Elinborg of several previous cases in which women can remember nothing about their rapes, not even the smallest detail about where it has taken place or even who has committed it, and several women have disappeared over the past few years. When those cases took place outside the city in small towns, few reports were made at the time of the crimes, the victims feeling so humiliated by their rapes that they feared public exposure within the community.  Gradually, information about this strange murder comes forth from neighbors and acquaintances. Some former rape victims are interviewed for possibly new information and connections to the murder victim.  A girl's disappearance in Akranes, a short flight from Reykjavik, provides Elinborg with still further information, and coincidences begin to connect people and events in unique ways.  The conclusion is typically "Elinborgian" – brought about not by physical action but by her ability to communicate with the murderer.
Though Indridason dots all the I's and crosses all the T's regarding this mystery, the novel ultimately feels more "domestic" than noir, more human and less grotesque than what one expects of an Erlendur mystery.  The bitter cold which permeates the atmosphere of so many Erlendur novels feels somehow less cold here, though it is still winter.  Elinborg, a warmer, more caring soul, feels the pain of the victims and their families, and is able to show it in ways that Erlendur cannot, allowing her an entrée into their feelings and even their secrets.  A couple of scenes feel hollow, however: The scene in which Elinborg is interviewing a rape victim gets a bit preachy and "over-explanatory" regarding the victim's reactions to the crime, repeating the standard do's and don'ts about rape which one finds everywhere.  In another scene she is talking with her daughter about her unappetizing school menus, and she elaborates on her own childhood and the uninspired menus her mother served – roast with pickled red cabbage and tinned peas, or mutton with horsemeat sausage and white sauce, a diversion which adds nothing to our understanding, other than  Elinborg's already recognized culinary interests.  Outrage, with Elinborg, is a unique creation by Indridason, and while it is interesting to see such a novel with a female protagonist, Elinborg's character has neither the charm nor the powerful personality which would have made her an intriguing "heroine" for me.
ALSO by Indridason:  THE DRAINING LAKE,     HYPOTHERMIA, JAR CITY,        VOICES,         OPERATION NAPOLEON,    REYKJAVIK NIGHTS,     INTO OBLIVION (2017)
Photos, in order: The author's photo by Cato Lein is found on http://www.norstedts.se
The East Fjords, where Erlendur has gone for personal reasons, appear on http://www.travelblog.org/ Photo by Nigel Waring.
The photo of actress Olafia Hronn Jonsdottir hightlights her interest in cooking, which is, ironically, one of the main freetime interests of Elinborg, whom she plays in the film of JAR CITY. Photo by Eggert John.    http://www.mbl.is/
The clue of the tandoori pot helps Elinborg track down a someone who can help with the investigation.  Photo by TM60, on
http://tonymead60.hubpages.com/
The photo of the Thingholt section of Reykjavik appears on http://www.icelandguest.com/
ARC:  Minotaur