Note:   "The third and final novel in the Millennium trilogy, The Girl Who Kicked the Hornets' Nest, became the most sold book in the United States in 2010…By March 2015, [the five-volume] Millenium series had sold 80 million copies worldwide." –from Wikipedia.
"[Lisbeth Salander] had resolved to strike first, not wait like some cornered prey, and that was why she now found herself in Moscow… But she was paying a higher price than expected.  Not only because it brought back her past and kept her awake at night.  It was also the fact that her enemies were hiding behind smokescreens and impossible encryptions, and she had to spend hours covering her tracks.  She was living like a prisoner on the run."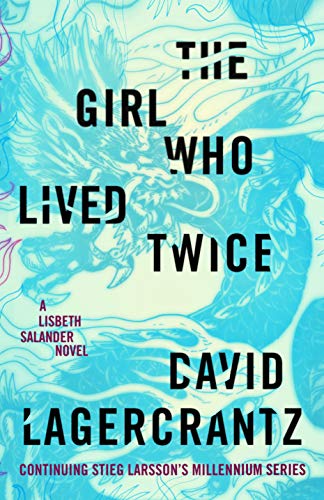 When Swedish journalist Stieg Larsson died suddenly in 2004, he left behind three unpublished novels, referred to as the Millennium trilogy, featuring an investigative journalist, Mikael Blomqvist, and a sociopathic but exceedingly talented computer hacker, Lisbeth Salander.  Between 2005 and 2007, these three novels were published posthumously to world-wide acclaim and immense popularity, and in 2009, films were made of them beginning with The Girl with the Dragon Tattoo.  The book series was continued after Larsson's death by author/journalist David Lagercrantz, who wrote three more novels for the series in 2015, 2017, and now 2019.  Though Lagercrantz has kept much of the characterization of the two "stars," Salander and Blomqvist, intact, Salander has become increasingly determined to lead her own life and to avenge many of the wrongs wreaked on her and her now deceased mother by her father and her twin sister Camilla.   Her relationship with Blomqvist, who is as protective of her as possible, considering her family background and personal history, has become less a part of her life as Salander has moved on, becoming – in her own mind, at least – more independent and more in charge of her life.
The Girl Who Lived Twice, released August 27, 2019, is the sixth novel in the continuing series, set primarily in and around Sweden.  Lagercranz and the publishers have been careful to provide as much background as necessary regarding the various continuing characters and secret organizations, even providing a list of them at the beginning of the book to remind the reader of names and roles.  Blomqvist is still working in Stockholm, while Lisbeth is in Moscow as the novel opens, pursuing her twin Camilla in Russia, where Camilla oversees a criminal enterprise involving the government and its hacking attempts.  Camilla despises Lisbeth and is determined to kill her for her murderous violence against her father and brother, both of whom had worked to kill Lisbeth.  To protect herself as much as possible from Camilla and her cohorts, Lisbeth has changed her appearance, wearing her hair shorter, removing her piercings, and covering some of the tattoos which still remain after an earlier removal.  She has lived a quiet life in Stockholm and has just sold her apartment, and she now lives in a hotel in Moscow, where she has set up computers and cameras to let her see anyone who comes or goes from her previous apartment in Stockholm or around her now.  Still, it is not long before she has to run for her life.  She leaves an encoded message for Blomqvist on his computer, and he responds.
The conjoined stories of Salander and Blomqvist are not the only action in this novel, or even the main action in this novel.  Starting with the Prologue, author Lagercrantz establishes a new direction, introducing a beggar, only five feet tall, who has been hanging out at the statue of Thor in Mariatorget, a man "with his head held high and his back always straight [who] looked like a chieftain who had fallen on hard times."  Going on to describe him with his missing fingers and dark patches on his cheeks, the author admits that "there had been a time when people bowed before him," though now he "carries the shadow of death."  When he is later found dead, the medical examiner finds a scrap of paper in his pocket containing the name of Michael Blomqvist.  Before the beggar's death, he had been shouting about Johannes Forsell, the Defense Minister, and though the beggar had been an alcoholic, he had not been on drugs.  The medical examiner, frustrated that the police in charge have done nothing about this death – an overdose – has come to Blomqvist, hoping that he might have more information.  Before long, Blomqvist is deeply involved in investigating and discovering more about the beggar, who was, in reality, Nima Rita, a Sherpa guide for treks up Mount Everest.
Part II focuses on "The Mountain People," the Sherpas, and a trip up Mount Everest involving some important people in Stockholm and the government. While this is often fascinating, as are the physical and genetic aspects of the Sherpas which make them so much more effective on the mountain than other ethnic groups, the connection of all this to the overall cast of characters and their long, well-known enmities and histories over the past six novels is unclear.  As this plot is unfolding through flashbacks and memories, the original subplots are also continuing.  Lisbeth's sister Camilla has returned to Stockholm from Russia with plans to kill Lisbeth, aided by her cohorts;  Lisbeth takes revenge on the husband of an abused woman with whom she is having an affair;  Blomqvist interrupts a a man's suicide attempt and, in turn, faces his own death;  later Blomqvist is kidnapped.  A secret backstory of the Mt. Everest trek unfolds including tales of poison and possibly murder; and not one, but two, violent meetings occur between Lisbeth and Camilla.  The "action" consists primarily of specific scenes, with little to connect all of them into a unified whole, and much of the narrative is told to the reader or relayed through flashbacks, interviews, and emails, instead of being shown while it is taking place.
Stieg Larsson's three novels and the four films made from those novels were released between 2005 and 2007, with the films being made in 2009, a decade ago, and readers and viewers, both domestic and international, were excited by both the characters and the narratives because they were so different creatively from previous Nordic Noir narratives.  Upon Larsson's death, however, his estate went to his father and brother, and they are the ones who have continued the Larsson mystique by sponsoring David Lagercrantz to write the three most recent Millennium novels.  He has done his job, and his books have sold well.  After more than ten years during which the original creator of these characters has been gone, however, the reading population may have changed, and those readers and viewers of the original novels and films may find this novel as problematic as I did, despite its occasional excitements.  It will be interesting to see if the series continues beyond this point.  The last line of this book seems uncertain:  "It felt like it was time for something new."
ALSO in the series: By Stieg Larsson:   THE GIRL WITH THE DRAGON TATTOO,   (Film of Stieg Larsson's THE GIRL WITH THE DRAGON TATTOO),    THE GIRL WHO PLAYED WITH FIRE,    (Film review of Stieg Larsson's THE GIRL WHO PLAYED WITH FIRE),    THE GIRL WHO KICKED THE HORNET'S NEST   (Film review of Stieg Larsson's THE GIRL WHO KICKED THE HORNET'S NEST)
By David Lagercrantz:  THE GIRL IN THE SPIDER'S WEB,    THE GIRL WHO TAKES AN EYE FOR AN EYE
Photos.  The author's photo appears on https://headread.ee/
Noomi Rapace, the earliest version of Lisbeth Salander as she appeared in the film of The Girl with The Dragon Tattoo.   https://www.dailymail.co.uk
Climbers at the top of Mount Everest:  http://climbingthesevensummits.com/everest/
Mikael Blomqvist, as played by Michael Nyqvist in the early films.  https://tvtropes.org
Sherpa guide on Mt. Everest:  https://blog.alienadv.com/everest-sherpa/
THE GIRL WHO LIVED TWICE

REVIEW. PHOTOS. Mystery, Nordic Noir, Psychological study, Russia, Social and Political Issues, Sweden

Written by: David Lagercrantz

Published by: Knopf

Date Published: 08/27/2019

ISBN: 978-0451494344

Available in: Ebook Paperback Hardcover