Note:  Kevin Barry was WINNER of the Rooney Prize for Irish Literature, 2007, for There Are Little Kingdoms;  WINNER of the Author's Club First Novel Award, 2012, for City of Bohane; WINNER of the International IMPAC Dublin Award, the literary world's biggest prize, in 2013 for City of Bohane; and WINNER of the Goldsmith's Prize, 2015, for Beatlebone. 
"It is night in the old Spanish port of Algeciras….The ferry terminal has a haunted air, a sinister feeling.  It reeks of tired bodies, and dread.  There are scraps of frayed posters – the missing.  There are customs announcements – the narcotraficante.  A blind man roils in night sweat and clicks his teeth to sell lottery tickets like a fat, rattling serpent – he's doing nothing for the place.  The Irishmen look out blithely at the faces that pass by in a blur of…distractions."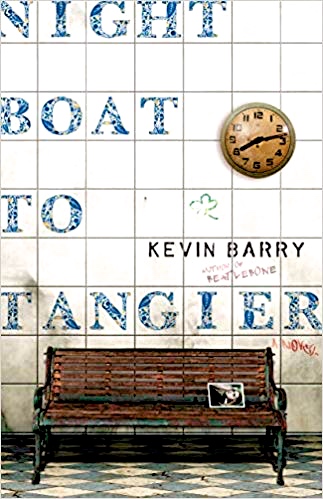 Sitting at the Algeciras ferry terminal, waiting for a ferry to Tangier which currently has no specific time or date, Maurice Hearne and Charlie Redmond, from Cork, Ireland, await the arrival – or the departure – of Maurice's daughter Dilly, about twenty-three, whom they have not seen or heard from in more than three years.  In their early fifties now, the two men bear the scars of hard living.  Maurice's left eye is "seared and dead, the other oddly bewitched, as though with an excess of life, for balance."  He wears a shabby suit and a derby hat.  Charlie has a pronounced limp and "hot, adulterous eyes," stomach trouble, bags "like graves beneath the eyes," and "soul trouble."  He is also wearing a well-worn suit, a tie, and a pair of "suede-finish creepers that whisper of brothels."  When the police appear at the terminal, the men arrange their faces to avoid contact and wait for an announcement from the public address system, in a language which they cannot understand during a time in which there is trouble in Tangier, "and not for the first time." As they wait, they reminisce about women, food, and their past lives at home, occasionally passing out hand-made flyers to others waiting there, showing Dilly and describing her as "a pretty girl with dreadlocks, and dogs, and she have pale green eyes."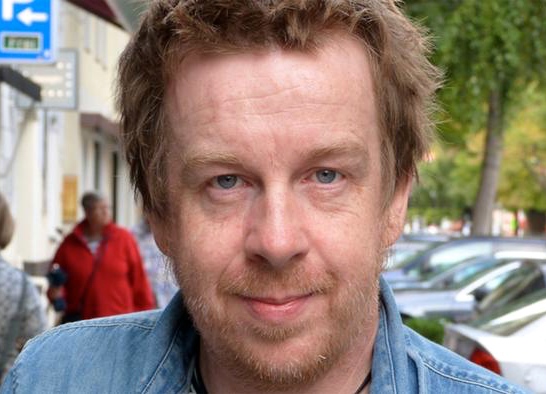 For the first ten pages, Irish author Kevin Barry is clearly having great fun here, bringing to life these two Irishmen, as they relate their life stories in a uniquely Irish sentence structure, accent, and vocabulary, and convincing the reader from the outset that this story is going to be absorbing and truly memorable for the dialogue, characters, and author Kevin Barry's writing style. The arrival at the terminal of a young English boy with his dog on a rope stirs Maurice and Charlie into action.   Though the English boy, Benny, obviously tries to avoid them, Maurice and Charlie accost him and refuse to let him escape, assuming he knows Dilly or someone else who might know her.  To impress Benny even further with their seriousness, they inform him of their "credentials":  Maurice volunteers the fact that Charlie is "the only man I ever heard of who smuggled dope into Morocco; Charlie informs him that Maurice Hearne is a "fella who's worked in the High Atlas trading goats for dope."  Showing Benny a knife, they gradually get him to admit that he has talked to Dilly and that she is now making wooden "sun disks"  to wear as magical pendants around the neck.  This opening scene, which changes the reader's impressions of Maurice and Charlie, ends inconclusively as two girls with dreadlocks, similar to the general description of Dilly, accompanied by a dog on a rope, enter the terminal.

Shifting back and forth in time and location, Barry constructs a story that keeps the action and the behavior of his characters in high gear, and he makes their lives easy to follow by carefully adding dates and place names to the ends of all the chapter headings so readers can compare contexts.  Chapter Two takes place in Malaga, twenty-five years earlier, as Maurice makes his first connections with "a woeful fat man from Birmingham…[as] his great, fleshy frame came to rest in a soft stack of complaint."  He tries to convince Maurice to "get up right now and run a fast mile…and to "Have your life. Get a job of gainful. Make some bloody kiddies."  Maurice is not deterred – he wants the success that this man represents. A "skanky" woman named Karima then takes him into the Malaga hills, shows him an apartment filled with graded Moroccan hash, and as a reminder of the seriousness of what Maurice is considering, then takes him to another apartment in which a blindfolded man is chained and gagged, moaning, and "slick with pain."  Maurice meets the more naive Charlie the next day, and by that night, they both are "in."
Several chapters show Maurice after a few years in the "business," when he is fearful for his wife Cynthia and Dilly, their three-year-old child, as he believes that they may have "climbed too quickly above [their] station."  Charlie is already in hiding in the west of Cork, and for good reason.  On their most recent shipment they have made over a hundred thousand "pounds, Irish," but they have also seen two enormous Spanish men in a van outside their house, watching.  As time passes, Maurice and Charlie continue in the "business," investing their profits in other businesses, many of which are unsuccessful.  At this late date, however, they have little or no chance of changing "careers." Times change, even in the narcotics business.  Hydroponic technology is now being used to grow product, which "means the end for the likes of you and me – We're the Antiques Roadshow," Maurice and Charlie conclude.
In keeping with the characters, the language is vulgar, but it also feels completely  "unscripted," full of real life and feeling, however limited the characters may be in vocabulary.  Maurice and Charlie face all the personal and family issues that others face, and they have serious discussions of life and death and responsibility.  As early as the opening chapter they are talking about the "seven true distractions in life" – death, lust, love, sentimentality, grief, pain, and, lastly, avarice – not unlike the Seven Deadly Sins – and their wait in the terminal for Dilly resembles a scene from an ironic modern Purgatory.  The men are instinctive in their reactions, and, even with each other, they sometimes go too far.  Unlike his characters, however, Kevin Barry is in total control of every aspect of this novel from its imagery, description, and language (even in its vulgarity) to some of the best, most revealing, and enjoyable dialogue any reader could ever hope for.  The conclusion, featuring the sad insights Maurice and Charlie share after their long wait at the ferry terminal, is both moving and universal.  Kevin Barry does it all.
ALSO  by Barry:  BEATLEBONE.     CITY OF BOHANE,     DARK LIES THE ISLAND
Photos.  The author's photo appears on https://www.dw.com
The Algericas Ferry Termimal, where Maurice and Charlie await the unsuspecting Dilly, is found on https://www.aferryfreight.ie
At the "hound statue" in Monument Plaza in Seville, Maurice mulls over Cynthia's ultimatum regarding women and drugs.  https://www.alamy.com/
After walking in the Ummera Woods for much of the night on the longest night of the year, Maurice returns to his home with Cynthia to a dark surprise.  https://www.irishexaminer.com
The magical wooden pendants which Dilly is reported to have been making may have looked like this: https://i.pinimg.com/
NIGHT BOAT TO TANGIER

REVIEW. PHOTOS. Experimental, Literary, Social and Political Issues, Ireland, Spain

Written by: Kevin Barry

Published by: Doubleday

Date Published: 09/17/2019

ISBN: 9780385540315

Available in: Ebook Hardcover