"The [Millenium] trilogy allowed Stieg to denounce everyone he loathed for their cowardice, their irresponsibility, and their opportunism: couch-potato activists, sunny-day warriors, fair-weather skippers who pick and choose their causes…unscrupulous company heads and shareholders who wangle themselves huge bonuses…"
If ever there were anyone who had an excuse to grind axes, it would be Eva Gabrielsson, who lived with author Stieg Larsson for thirty-two years but who, through a loophole in Swedish law, inherited nothing upon his death at age fifty in November, 2004, his entire estate going, by law, to his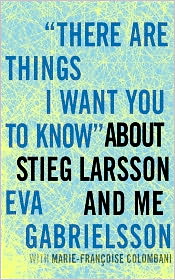 estranged brother and father.  Gabrielsson has said many times, and repeats often throughout this book, that she is not personally interested in the enormous sums which the posthumous sales of his Millenium Trilogy have generated—forty million books sold, plus rights to audiobooks and films, including three Swedish films and one American film not yet released.  As dedicated to social causes as Larsson was, she is fighting, instead, for control of his literary legacy, especially alarmed because "a myth has sprung up: the 'Millennium Stieg'…[which] casts him as the hero of the trilogy…[though] Stieg didn't wait for the Millennium books to be what he was."
Remarkably objective and straightforward for most of the book, Gabrielsson describes his early life in the remote north of the country in a poor community where he lived with his grandparents from infancy until the age of nine.  His grandfather, an anti-Nazi pacifist, had survived internment during the early years of World War II, and his grandfather's stories and political views molded Stieg Larsson's own early views.  After his grandfather's death, Larsson rejoined his mother and father, six hundred miles to the south, in a tiny apartment in the city.  By then, they had had another child, Joakim, and though Larsson felt comfortable with his mother, he never formed a strong bond with his father or brother, according to Gabrielsson, moving into his own studio apartment when he was seventeen.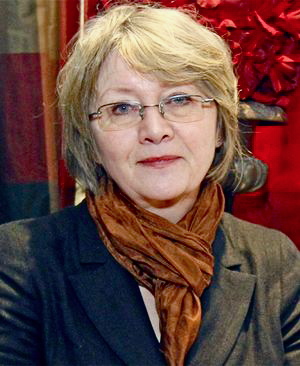 In 1972, just after his eighteenth birthday, he met nineteen-year-old Eva Gabrielsson at a rally in support of the Front National de Liberation in Vietnam (FLN), a Trotskyite group.  Soul-mates, she says, they simultaneously supported communist causes and a strict, old-fashioned morality, believing in justice but also in vengeance.  Later, when Larsson began to write for a series of newspapers, he was a passionate champion of human rights for those suffering from discrimination.  Neo-Nazis, racists, white power groups, and other right-wing extremists subjected him to constant death threats, as a result of these stories, one reason they never married or had children, she suggests.
Many of the people he met as a crusading journalist became models, for good and for evil, in the Millenium trilogy, though she is quick to point out that Larsson and Mikael Blomqvist are similar but not the same people.  In some ways, too, Lisbeth Salander resembles Larsson, sharing with him a "mania for caution and secrecy."  "Every violent act in the Millenium Trilogy was inspired by real murders," Gabrielsson says, and she admits that Millenium magazine bears a strong resemblance to Expo magazine, a quarterly for which Larsson was a co-founder.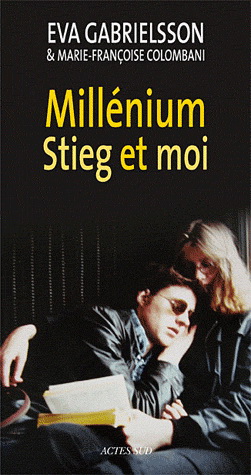 Constantly emphasizing Larsson's causes and his philosophical and political beliefs throughout her book, Gabrielsson does not really tell much about their lives together, except within the context of their shared beliefs, and neither of them truly comes alive here.  Gabrielsson's descriptions of her grief at his sudden death certainly ring true, and her grieving process, as described, was long and arduous, but much of this grief was also connected to their devotion to causes, some of which began to languish after his death.
Gabrielsson did not know, at first, that Larsson's death had left her penniless, except for her half-interest in the apartment, which they had bought together.  She talks about the initial, seemingly friendly, contacts with the family in the immediate aftermath of Larsson's death, and it was not till five months later that she discovered through the newspapers that Erland and Joakim, Larsson's father and brother, had claimed the entire estate.  She soon received a bankbook with her share of the estate:  $181.41. She is passionate about what she regards as this complete violation of Larsson's wishes—that the profits from his books would serve causes in which he so strongly believed, not personal greed.  In reducing Larsson to a product, she says, "certain people have even tried to erase me from the map…[an] attitude fueled in part by misogyny, and not just toward me: wherever the myth of Stieg Larsson is involved, women are always devalued, whereas he collaborated mostly with women all his life."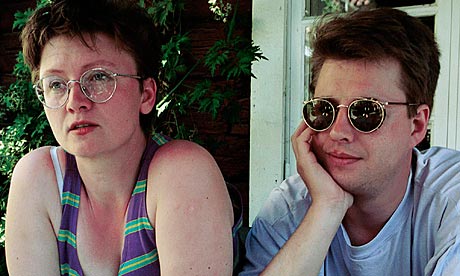 Despite her obvious grief, Gabrielsson still comes across as rather cold, single-minded, and uncompromising about any aspect of Larsson's legacy.  Though his father and brother have been incredibly insensitive, to say the least (they offered to give her Larsson's share of their small apartment in exchange for the computer containing, supposedly, an outline and two hundred pages of a fourth book), she seems equally tunnel-visioned, equally close-minded.  And as the wrangling between Gabrielsson and the Larssons plays out, I cannot not help feeling that parts of this saga have been left out here.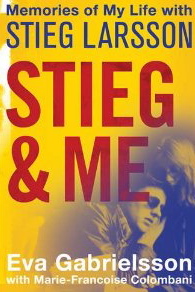 Does Gabrielsson, in fact, really hold the "ace" in this high-stakes game of Larsson's legacy—the mysterious computer?  That is never clear.  She says the computer was returned to Expo magazine the day Larsson died (because Expo owned it), and that it remained there, unsecured, for at least six months.  Expo denies that they have it.  In an interview Gabrielsson has also said that she is determined that the fourth book, if it exists, not be completed—she wants no ghost writers involved in Larsson's work.  Even more confusing is this statement from Gabrielsson's own co-writer, Marie-Francoise Colombani in the Foreword:  "If Eva's request [for control of Larsson's literary estate] is granted, she will clear up the mystery shrouding the fourth novel…As for enemies of Lisbeth Salander and Mikael Blomqvist—let them tremble, for this fourth book will be entitled The Vengeance of God. And they should know this: Eva, tempered in the fires of adversity, is poised to write the final words of their fate and lead a dance on their graves."
Photos, in order: The author's photo, by AFP/Getty, is from  http://www.independent.co.uk, which also contains an article about the book (with its slightly different UK title).
The French cover is shown on Amazon.com.
The 1990 photo of Gabrielsson and Larsson is from  http://www.guardian.co.uk, PA/Scanpix.
The UK cover is from amazon.co.uk.
This video is released by the publisher, a talk with Gabrielsson at Barnes & Noble, NYC.  Here she reveals a human, even soft side, not visible in the book itself.