Still haunting after all these years.
One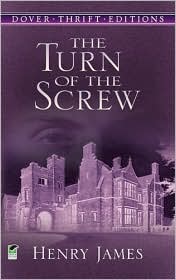 of the most seductive of all ghost stories, Turn of the Screw is not a tale for young people inured to Halloween I and II or Tales from the Crypt. It is a sophisticated and subtle literary exercise in which the author creates a dense, suggestive, and highly ambiguous story, its suspense and horror generated primarily by what the author does NOT say and does not describe. Compelled to fill in the blanks from his/her own store of personal fears, the reader ultimately conjures up a more horrifying set of images and circumstances than anything an author could impose from without.
Written in 1898, this is superficially the tale of a governess who accepts the job of teaching two beautiful, young children whose uncle-guardian wants nothing to do with them. On a symbolic level, however, it is a study of the mores and prejudices of the times and, ultimately, of the nature of Evil. The governess fears that ghosts of the former governess Miss Jessel and her lover, valet P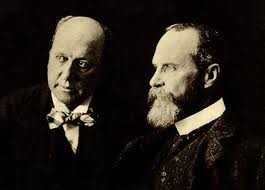 eter Quint, have corrupted the souls of little Flora and Miles and have won them to the side of Evil. The children deny any knowledge of ghosts, and, in fact, only the governess actually sees them. Were it not for the fact that the housekeeper, Mrs. Grose, can identify them from the governess's descriptions, one might be tempted to think that the governess is hallucinating.
Though the governess is certainly neurotic and repressed, this novel was published ten years before Freud, suggesting that the story should be taken at face value, as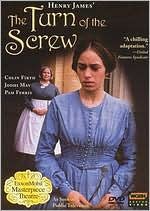 a suspenseful but enigmatic Victorian version of a Faustian struggle for the souls of these children. The ending, which comes as a shock to the reader, is a sign that such struggles should never be underestimated. As is always the case with James, the formal syntax, complex sentence structure, and elaborately constructed narrative are a pleasure to read for anyone who loves language, formality, and intricate psychological labyrinths. (As is obvious from the reviews on Amazon by high school students, however, these literary "charms" may be less alluring to those on whom they are imposed as required reading.)
ALSO reviewed here:  THE BEAST IN THE JUNGLE,      THE BOSTONIANS (DVD) ,      DAISY MILLER,      THE GOLDEN BOWL (DVD),      PORTRAIT OF A LADY,      THE TURN OF THE SCREW,      WINGS OF THE DOVE (DVD)
Notes: The photo of Henry James (left) and his older brother William (right), a philosopher, may be found on http://www.bu.edu/mih/
A Masterpiece Theatre production of this book from 1999 is available on major book and film websites.
Also reviewed here:  six other Henry James novels and DVD productions.  Check Author or Title tabs at the top of the page.