"All my life I'd lived out of step and synch with the larger world, forever tottering on borders and fault lines."
By combining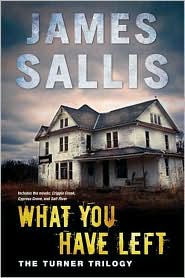 all three books of the John Turner trilogy under one title, author James Sallis creates one of the most unforgettable characters ever created, in a series of stunning, connected novels. However dramatic, skillfully developed, and intelligently written each novel is separately (and one could argue convincingly that each of these is individually a prize-winner deserving of the best of the year award for noir fiction), the idea of reading them all in one package is a no-brainer.
Sallis is a writer of the first order, one of the best contemporary novelists in America today–and I say "novelists," without adding any limitations, such as "mystery writer," "thriller writer," or "southern gothic writer." Sallis is a writer so good that he should be known by every lover of dark literary fiction in America by now.
Sallis's novels are bleak, even noir, versions of what he and his characters see as reality. Cypress Grove, the first in the series, introduces Turner, a man who was a soldier, a Memphis cop turned convict, then therapist, who has decided to escape from the pressure cooker of big city police work and go to the boondocks, far from Memphis. When local Sheriff Lonnie Bates, a continuing character in the series, asks for his help solving a murder, Turner reluctantly agrees.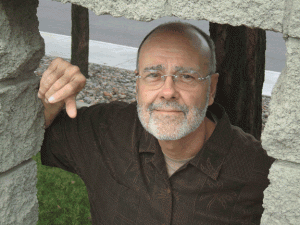 In Cripple Creek, the second novel, he is also drawn into the investigation of local crime when a routine traffic stop uncovers a satchel with two hundred thousand dollars in the car of a speeder. "Goombahs" from Memphis organized crime attack the station house to release a prisoner from jail, and Sheriff Lonnie Bates and his daughter are seriously injured. As acting sheriff, Turner investigates, making some serious enemies.
The concluding novel, Salt River, takes place two years later. Turner, by now, has seen and done it all. Though he has remained in Cripple Creek, his life is dark, sad, and full of the knowledge that unexpected horrors can cripple, if not kill, even the most flickering of one's personal hopes. As he investigates a car theft involving the son of the sheriff, a murder near a utopian commune in the hills, and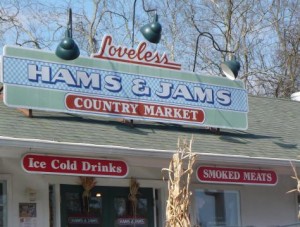 the possible kidnapping of the sheriff's wife, Turner shows us that life is messy, that people's lives are always unfinished stories, and that all one can do is muddle through, with little expectation that one's efforts will bear fruit. "There are mountain men or cowboys inside us all, Henry David Thoreau and Clint Eastwood riding double in our bloodstreams and our dreams."
Spare with details and minimalist in style, Sallis emphasizes characters in these intelligent and compressed novels of ideas and identity. Every word counts here, even when those words are not adding to the plot. Sallis's lean, mean style reflects both his main character's personality and that style of noir writing in which events are presented and the reader is left to draw conclusions.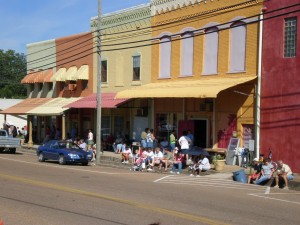 Through flashbacks and flashforwards, he shows Turner in action, a man genuinely kind and empathetic, at the same time that he is violent and filled with bloodlust. Beautifully crafted, carefully written, and stylistically unforgettable, Sallis's John Turner series creates one of the most fascinating characters in contemporary mystery writing.
ALSO by James Sallis: THE KILLER IS DYING,           DRIVE,       DRIVEN (the sequel to DRIVE),      OTHERS OF MY KIND,     WILLNOT,    SARAH JANE
Photos, in order: The author's photo is from his website: http://www.jamessallis.com
The Loveless Market is in rural Tennessee, outside Nashville:  http://www.igougo.com
The town center of Bradford, Tennesse, is, perhaps, similar to Cripple Creek:  http://www.anniesolomon.com