Note: This novel was WINNER of the Riverton Prize for Best Norwegian Crime Novel of the Year in 2000, when it was released in Norway.
"There is nothing that has not been said before, or done for that matter, and the poor kids with flared pants and headbands hitch-hiking by the roadside or those rolling naked in the mud at the Roskilde Festival, they might think they're demonstrating a counter-culture but they're just a tourists' sideshow…a nice reunion with another time…like seeing those key-rings with the image of Jerry Garcia at Fisherman's Wharf."
For lovers of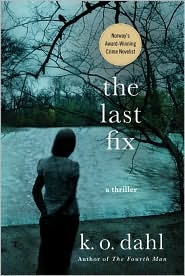 Nordic Noir, there's a new guy in town—at least someone new to me.  K. O. Dahl (Kjell Ola Dahl), a highly respected and prize-winning author in Norway, has just had a third novel published in the U.S.  Written in 2000 as the first of a trilogy, and followed by The Fourth Man (2003) and The Man in the Window (2005), all three novels have now been published in English by Minotaur.
Featuring pudgy Detective Frank Frolich and his boss, the taciturn Chief Inspector Gunnarstranda, Dahl focuses more on the victims and those who surround them than he does on his sleuths, not even giving physical descriptions of his detectives till many pages into the book.  One does not know that Gunnarstranda is a widower till over seventy pages have elapsed, and the relationship between Det. Frolich and Eva-Britt is not clear till significantly later. This focuses the action clearly on the victim(s) and helps create a suspenseful and often dramatic novel which sometimes devolves into philosophical, social, and psychological discussions as his characters meet and interact.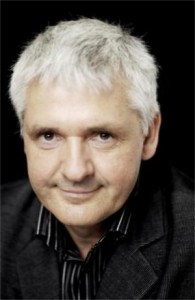 The novel starts in a simple but unusual fashion, and then ratchets up quickly when a thug enters a travel agency, threatens Katrine, a young employee with a past, who screams at her boss to call the police.  The boss, also frightened, calls on superhuman reserves of strength and boldly confronts the intruder.  In her most schoolmarm-ish voice, she huffs, "I beg your pardon, young man!"  The startled thug reassesses the situation and eventually departs with another warning for Katrine.  That night Katrine, has to attend to a party with her skinhead boyfriend, an event she does not wish to attend.  Having nearly completed three years of a drug rehab program, run by the party's hostess, Annabeth, and her husband (the chairman of the rehab center's Board), Katrine finds the party a particular challenge.  The insensitive host and hostess and the party guests are consuming large quantities of alcohol, and smoking and imbibing in recreational drugs.  Here the author further increases the tension by describing the party through Katrine's point of view, revealing her genuine fears and her terrified reaction to a sudden fainting attack. When many of the guests, including her date, leave to attend a nightclub at midnight, she calls a friend for a ride home instead.  The next morning her body, cast off from a bridge, is found beside a lake.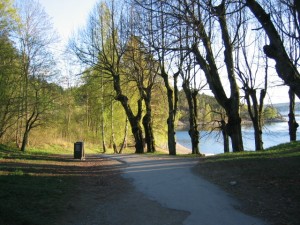 Though some elements of the mystical appear in Part I as Katrine and her friend share a story about a ring, which becomes symbolic later in the novel, the narrative is straightforward.  Most of Part II is less a narrative than a series of dialogues, as Inspector Gunnarstranda and Det. Frolich begin interviewing everyone who might have had contact with Katrine, leaving it up to the reader to process and keep track of all the disparate elements they are investigating.  Virtually all the characters have something to hide, often having to do with their sexual escapades, and all of them lie.  The mysteries of Katrine's life involving her real parents, her foster parents, her sad inability to find true mentors, and her search for peace through drugs and sex, become the major focus of the rest of the book.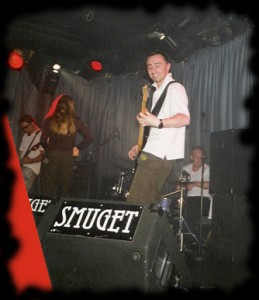 Occasional flashes of humor appear:  Gunnarstranda is pelted by tomatoes when he goes to interview people at the drug rehab facility;  a character comments that those who overdo the tattooing "look as though they have been made in a factory"; and paunchy Det. Frolich, objecting to his mother's invasion of his apartment to clean it, tells her that he needs quiet to think, to which she responds, "Go think somewhere else!  Stomach first—out you go."
The two detectives, Gunnarstranda and Frolich, become slightly more rounded as the novel progresses, though they remain very thinly developed, overall, in this novel.  The reader does develop significant empathy for Katrine, the victim, whose life is grim, though fairly well developed on a psychological level.  As the detectives investigate, their interviews with people who knew Katrine lead to a reliance on dialogue to reveal the action.  This creates a novel in which characters talk about the action, rather than show it, and that,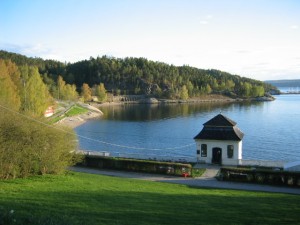 in turn, limits the excitement and the reader's involvement. The ending does come as a big surprise, but that surprise stretched the limits of plausibility, at least for me. I was hoping for that "ah-ha!" moment, which the best mysteries have, but though I found this an enjoyable book, I did not find that magic moment here.
Photos, in order: The author's photo is from his website:  http://kodahl.com
Katrine walked through the woods and took a swim in Lake Gjer on the night she died. That photo, by Jan Ove Brenden, appears here: http://janovebrenden.no Fourteen other photos  also appear on this link.
Smuget, a Oslo nightclub with live music, which many of the party guests visited, is from: http://www.karstenpedersen.net/Pages/Historien.htm
Katrine's body was discovered above Hvervenbukta, pictured here: http://janovebrenden.no