Note: Kate Atkinson is the 2015 Costa Award WINNER for A GOD IN RUINS.  Kate Atkinson was WINNER Of the Whitbread Award Book of the Year (1995) for BEHIND THE SCENES IN THE MUSEUM, WINNER of the 2009 CWA Gold Dagger Thriller Award for WHEN WILL THERE BE GOOD NEWS, and WINNER of both the Costa Award (2013) and the Walter Scott Prize (2013) for LIFE AFTER LIFE
"Walking back along the lane, Teddy felt a sudden unexpected tremor in his breast, a kind of exaltation of the heart.  The memory of the lark's song and the sharp green smell of the great bouquet of bluebells that he had picked for his mother combined to make a pure moment of intoxication, a euphoria that seemed to indicate that all the mysteries were about to be revealed.  ("There's a world of light," his sister Ursula said.  "But we can't see it for the darkness.")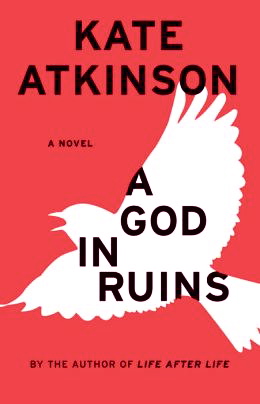 Teddy Todd, age eleven in this quotation from the early pages of the novel, has a poet's nature, and at times he dreams of becoming a poet and fine writer.  Sensitive to the sights, sounds, and smells of nature, he seems to be on his way to a life of beauty, which may actually be attainable during his life of privilege within his large multigenerational family.  This single moment in 1925, in which he feels his "exaltation of heart" turns out to be the only moment of complete euphoria he is ever likely to experience in his lifetime, however.  The "darkness" which his older sister Ursula says hides the "light" is already being felt by the adults in his life.  By 1939, when he is twenty-five, he himself is on his way to war as a Halifax pilot, part of the Bomber Command in Yorkshire, on the first of seventy sorties for his country in which he and his crew kill hundreds of enemy fighters – and civilians – some of their own men dying in their efforts.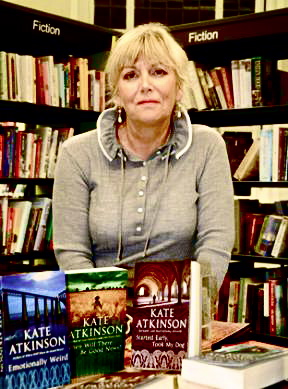 This novel, author Kate Atkinson's "companion novel" to her earlier Life After Life, reintroduces the Todd family, and Ursula, Teddy's sister, who is the main character of that earlier book.  The styles of the books are very different, however.  In Life After Life, Ursula is born and dies, more than once, and with each death, the author revisits the circumstances, showing how just one little change in her life might have avoided that death.  She then retells the stories of her characters so that they do not die, having them make changes so that instead of dying by accident, they continue to live on, until they make another mistake but then are brought back to life yet again, ultimately revealing the history of the period up through World War II.  In A God in Ruins, by contrast, Atkinson has created a firm, but hidden, chronology in terms of the lives of her characters, who do not die and get reborn.  Here she shuffles the episodes in her characters' lives so that their stories are revealed in narrative chunks taken out of context and time.  All the details are here, but the explanations for events often hang in the balance and lead to some suspense.
A one-page first chapter, about Teddy as he is about to take off from Naseby on a bombing run in 1944, is followed by chapters from 1925 (in which the opening quotation appears), 1980, 1947, 1939, 1993, 1951, 1982, back to 1943, and eventually up to 2012, and the reader must sort out these constant flashbacks and put them into some sort of chronological order.  The opening chapters also introduce over twenty characters from four generations of Todds, and for each of these families, Atkinson details the lifestyles and mores, ranging from the rural conservative gentry of Teddy's parents to the anti-establishment commune in which Teddy's daughter Viola lives, as she rejects any kind of responsibility.  By far the most fascinating and lively chapters are those in which Teddy is engaged in battle. The six men who fly with him become his "family."
The novel starts slowly, as Atkinson introduces her characters – Teddy, his parents, his sisters and brothers, and his young neighbor Nancy, who eventually becomes his wife.  His aunt Izzie has written a series of children's books about Augustus, a little boy modeled on Teddy, who is lost within his own family but who performs heroic acts and shows his kindness and care for others in her books.  Within the first fifty pages of A God in Ruins, the reader knows that grown-up Teddy has one daughter Viola, who resents him, and two grandchildren, Sunny and Bertie (Roberta).  A hundred pages elapse before the most tension-filled aspect of the novel, begins – Teddy's war experiences – though the reader has learned earlier about his war record.  Mixed in with these war narratives are scenes showing his late-in-life decisions to move to smaller and smaller quarters to facilitate his care as he ages into his nineties.  Each of these moves also involves disposing of possessions which have meaning to him – the piano belonging to his deceased wife, a Liberty Arts and Crafts sideboard, his war medals.  As the novel continues, the focus shifts to Viola and her children, especially Sunny, with whom she has had no contact for many years, and near the end of the novel, it includes the preparations for Queen Elizabeth's Silver Jubilee on the Thames.  The conclusion includes an unexpected twist.
The novel which results from all these structural elements features a broad scope and a panoramic historical vision, especially of World War II, but Atkinson also concentrates on revealing the essence of man through her scenes, as well as man's attempt to explain his life through religion.  She is particularly concerned with the enormous influence of evil – even its control over man – and, as she quotes (from Ralph Waldo Emerson) in the beginning of the novel,  "A man is a god in ruins.  When men are innocent, life shall be longer, and shall pass into the immortal, as gently as we awake from dreams."  In this case, it is Teddy who is the god in ruins, a man whose inherent "niceness" has not served him well enough to survive war's horrors without damaging his soul.  Since Teddy lives to be nearly one hundred years old, his life becoming smaller and smaller in its scope, and his living quarters also becoming successively smaller as he becomes less and less independent, the pattern of his life will sadden all but the most hard-hearted readers.
As a long-time fan of Kate Atkinson, whose novel Life After Life was #1 on my Favorites list for 2013, I was surprised by this book.  The structure, which moves from the 1920s to 2012, in seemingly random episodes, eliminates by its very nature many of the surprises upon which a long novel depends.  Its slow start, with its focus on the characters, none of whom are characters with whom I could identify or find exceptional, places a big burden on the later war scenes for the novel's  "excitement."  For me, the novel sprawled, without a clear narrative focus, and while some episodes and characters added to the thematic development and illustrated the "ruin" of man, they sometimes felt extraneous and drained the excitement and energy from this novel of almost five hundred pages.  The surprise ending, which many have lauded for its creativity, carried the whiff of trickery for me and made me sad – an appropriate and ironic result, perhaps, considering the author's own focus on a "god" in "ruins."
Also by Kate Atkinson: CASE HISTORIES (Jackson Brodie mystery #1),      ONE GOOD TURN (Jackson Brodie mystery #2),     WHEN WILL THERE BE GOOD NEWS? (Jackson Brodie mystery #3),     STARTED EARLY, TOOK MY DOG (Jackson Brodie mystery #4),  BIG SKY (Jackson Brodie mystery #5)
LIFE AFTER LIFE,    TRANSCRIPTION

Photos, in order: The author's photo appears on https://www.librarything.com/
The 4-engine Halifax bomber, which Teddy flew for several years, is shown on http://www.helmo.gr
Just William by Richmal Crompton serves as the model for the series written here by Teddy's Aunt Izzie.  Teddie was the model for Izzie's series,
When Teddy had to move to smaller quarters, his Liberty Arts and Crafts sideboard, identical to this one sold on Antiques Roadshow, was consigned for sale.  When Viola learned the sale price, she was furious that she did not demand the sideboard so that she could have benefitted from the sale.  Details here:  http://www.pbs.org
The dropping of aluminum chaff to confuse German radar, , a program called Window, is shown in this photo: https://www.pinterest.com