Boxes within boxes, dolls within dolls, worlds within worlds. Everything was connected. Everything in the whole world."
In a book t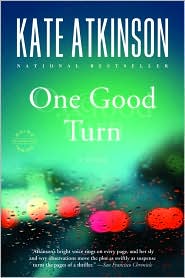 hat is pure unadulterated fun, Kate Atkinson creates her second Jackson Brodie mystery (2006), featuring a series of bizarre characters, all involved with murder–either planning it, committing it, or trying to avoid it. Many seemingly unrelated characters, involved in several seemingly unrelated plot lines, make their appearance in the first fifty pages. During the four days in which the novel takes place, however, these characters and plots start to overlap and eventually come together, until, at the end, the reader is smiling with pleasure at the brilliant plotting and ironic twists of fate–full of admiration for Atkinson's skill in bringing it all together with such panache.
In the main plot line, an Edinburgh automobile accident leaves "Paul Bradley," a mysterious man and innocent victim, at the mercy of a crazed, baseball bat-wielding Honda driver. A witness, Martin Canning, the timid writer of Nina Riley mystery stories, reacts instinctively to the impending carnage, hurling his laptop at the Honda driver and saving "Paul Bradley" from certain death. A second set of characters revolves around Graham Hatter, the wealthy developer of Hatter Homes, who is in trouble for bribery, money laundering, and fraud in the building of cheap tract houses.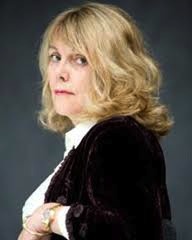 Jackson Brodie, former cop and private investigator, in Edinburgh for a drama festival in which his girlfriend is involved, introduces a third plot line when he discovers a woman's body on the rocks beside the ocean. It washes out to sea, nearly drowning him when he tries to retrieve it. Sgt. Louise Monroe, who lives in one of the Hatter Homes and whose son is a petty thief, is assigned to investigate the report of the body Brodie claims to have seen. Additional threads involve a housecleaning company/escort service, a second-rate comedian who "comes to dinner," and events which took place in Russia some years ago.
Full family backgrounds and work histories are given for all the characters, and it is through these that the reader often detects some of their interconnections. Ironies abound, and as characters' dreams are revealed and their fantasies are explored, the reader comes to know them–until Atkinson reveals even more surprises and shows how much we have yet to learn. With action that comes fast and furious, devious plot twists, and deliciously dark humor, Atkinson crafts a novel that proves one of Jackson Brodie's maxims: "A coincidence is just an explanation waiting to happen." By the end of this novel, all the explanations have happened.  A terrific novel which expands on the character of Jackson Brodie.
Note: The author's photo is from her Amazon.co.uk Author page.
ALSO part of the Jackson Brodie series:  CASE HISTORIES (#1),     WHEN WILL THERE BE GOOD NEWS (#3),     STARTED EARLY, TOOK MY DOG (#4),     BIG SKY (#5)