Just returned from Book Expo America, 2013, in New York City, always a hectic but energizing experience.  On each of the three days in which publishers' booths are open to librarians, teachers, book reviewers, and the press., et. al.,  (Thursday through Saturday of this past week), the entire Javits Center is filled with excited book lovers running around anxiously, and in some cases frantically, in an effort to obtain advance review copies of particular books by particular authors that they have been looking forward to.   Most of these books are for fall, with publication dates ranging from August to December.  Publishers and publicists from all the major houses carefully plan the release of their limited number of advance review copies for specific times during the Expo, in an effort to make them last for the entire three days of the event.  When the allotment of books for 9:00 on Thursday, for example, is gone, that book may not be available in the publisher's booth again for several hours, at which point there will be another limited number available, until they are gone, at which point people must wait until Friday's allotments.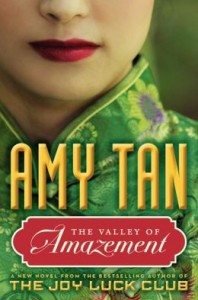 When I arrived at the front doors to the Javits Center on Thursday, it was clear that the new Amy Tan book, Valley of Amazement (due November 5, 2013),  "a mother-daughter tale with rich historical implications,"  was already getting huge attention.  Every entrance, at least six of them facing 11th Avenue (at 34th St.), had banners showing the book's cover, and large posters appeared inside throughout the venue. Harper Collins had scheduled five different times at which this title would be given out during the three days of Book Expo.  As an example of the demand, I was one of the earliest ones to arrive at the Harper Collins booth, arriving at 9:03, after the doors opened at 9:00.  All those Amy Tan books were already gone, with the next batch not being released till mid-afternoon.
Most publishing houses also have author signings throughout the event, with, perhaps, a hundred books reserved for those who line up to receive a copy from the publicist and have the author sign it.  The lines sometimes curl for long distances.  Enthusiastic publicists are always there to help out in the publishers' booths, however, and, if a particular title is no longer available, they may interest participants in a similar book by a new author, someone too new to have fans but hoping to find them.
Here are few of the authors who have been at BEA this year, signing review copies or finished copies of their books:
Colum McCann, Transatlantic, his first book to be set primarily in Ireland
Doris Kearns Goodwin, Team of Rivals, and The Bully Pulpit
Alice Hoffman, Survival Lessons
Aminatta Forna, The Hired Man
Robert Olen Butler, The Star of Istanbul
Alice McDermott, Someone, her first new book in eight years
E. L. Doctorow, Andrew's Brain
Okey Ndibe, Foreign Gods
Sue Grafton, W is for Wasted
Thomas Van Essen, The Center of the World, with artist  J.M.W. Turner as a major character
Andre Dubus III, Dirty Love
Jonathan Lethem, Dissident Gardens, a book NOT set in Brooklyn
Norman Rush, Subtle Bodies
Jan-Philipp Sendker, a Well-Tempered Heart, sequel to The Art of Hearing Heartbeats
.
Some other new books coming this fall:
Kevin Barry, Dark Lies the Island, a story collection (WINNER of the IMPAC DUBLIN AWARD for 2013)
Kenneth Bonert, The Lion Seeker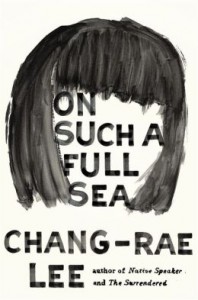 Chang-rae Lee, On Such a Full Sea
Ronald Frame: Havisham: a Novel
Ann Patchett: This Is the Story of a Happy Marriage
Dennis McFarland, Nostalgia
John Boyne, This House is Haunted
Allan Gurganus, Local Souls
Nicholson Baker, Traveling Sprinkler, sequel to The Anthologist
Among my best memories of this BEA is the chance encounter I had with E. Bukowsky, "Booklover 10," an Amazon friend for about ten years, someone I've met in New York several times and at BEA events since we first met in person in 2006.  We hadn't made plans to get together this year, as both of us were rushed, but fate intervened (happily) and we were able to spend a few minutes together while she passed some time waiting in a book-signing line.  A reviewer of detective novels, she was looking forward to meeting Sue Grafton and receiving W is for Wasted. Great fun to be able to catch up for a few minutes and to see new baby photos of grandchildren – a nice dose of reality and a welcome break in the midst of the BEA maelstrom.
For those thinking of going to a BEA event in the future, the experience is both exhilarating and exhausting, but best of all, great fun.  For those of us who have been reviewing for a long time (It's going on eighteen years for me.), it is a chance to check in with publicity directors and publicists whom we have not seen for over a year but "know" from the many e-mails sent back and forth over the years.  Many of these publicists have become real friends.   Finally, BEA is a chance for us to see which books will be getting the biggest-time publicity, what the audience for these books is expected to be, and which books, geared to a smaller projected audience, might be just perfect for those of us who review primarily for a niche audience (like international fiction and regional US fiction).
Photos, in order:   The Javits Center photo appears here:  http://www.bvents.com
The Thomas Keneally photo is from http://www.festivaloftheartsboca.org/gallery/
The Doris Kearns Goodwin photo and the Thomas Van Essen photo are my own.