"The Stray Sod Country…[is about] being lost in what once were reassuring surroundings.  Being intimidated, confused—by the very thing that once made you feel secure.  You feel…entrapped, deceived, tricked and snared by a seemingly beautiful world.  It's what happens when the unholy gate closes."
Irish autho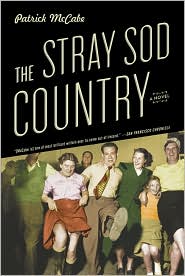 r Patrick McCabe became world famous in 1992 with the publication of The Butcher Boy,  a psychological study of a young schoolboy whose tormented inner world, combined with the extreme cruelty he faces in the outside world, eventually leads to his descent into madness and murder.  Winner of the Irish Times Best Novel of the Year Award for that novel, McCabe followed up his success with The Dead School (1995), a novel about two teachers, also facing extreme real world stresses, both of whom also waste their lives in madness or near-madness.  Other novels, such as Call Me the Breeze (2003) and Winterwood (2006) continue McCabe's fascination with the emotional decline of main characters, leading to McCabe's identification as the King of "Bog Gothic"—novels set in rural Ireland with Gothic twists and turns—which he sometimes embellishes with black humor.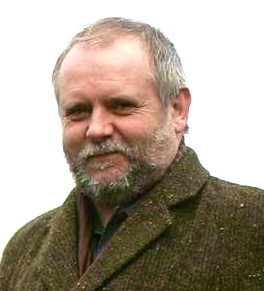 While no one will ever say that this novel by McCabe is anything but dark, he has a much broader canvas here, delving into the life of an entire community located on the border between Ireland and Northern Ireland.  McCabe himself grew up (and still lives) in Clones, a town also on the border, and his vibrant descriptions of Cullymore in this novel obviously owe much to life as he has known it in Clones.  An odd novel in some ways, Stray Sod Country chooses not to focus on a single main character, instead giving portraits of many people from the community as they deal with changes in society from 1958, when Laika the Russian space dog captured the imaginations of the townsfolk, through the turbulent 1970s, and up to the present.  A mysterious narrator makes his first comments as "I" early in the novel when he creates images of Fr. Patrick Peyton having a torrid romantic encounter with actress Jane Russell, images he then puts into the mind of a rival priest, Fr. Gus Hand, who despises his fellow priest for working and associating with Hollywood stars.
This early comic episode also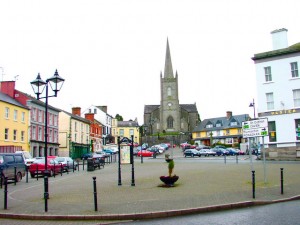 establishes the feeling of menace which permeates the book, affecting virtually every character, some of whom find their bodies taken over momentarily by a  malevolent outside force which impels them to say and do things that they would never do on their own.  Who the spirit is is not quite clear at the beginning, but he appears to be The Fetch, a kind of devil who, along with Nobodaddy  (from William Blake), has played a role in community folklore and history whenever evil has occurred.  Powerful and always ready to take down residents who appear to be happy in their lives, the spirit is well known to the residents of the community, but they tend to see and know him only in their own lives, not realizing that he has similar effects on others.  They are busy and spend little time contemplating the mysteries in the lives of their friends and neighbors. "[In Stray Sod Country] your neighbors—or who you thought were your neighbors—[reveal] themselves to be the unknown. Which is what they have been all along."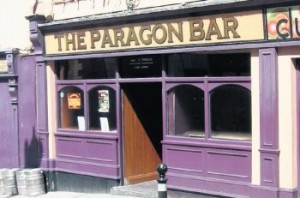 A  married couple in a "mixed marriage," one Roman Catholic and one Protestant, lead happy lives for a certain period of time, doing good deeds and caring for a handicapped son.  Then life changes.  A devoted classics teacher in a Catholic school is mysteriously overcome during class and kisses a young boy, something that he has never before even dreamed of doing,  Ostracized by the church and community, he becomes a vengeful pariah promising death and destruction. A possibly innocent man who is thought to have turned in a local IRA member to the RUC is tormented by the community.  The Easter pageant, called "Tenebrae," meaning "darkness," which has occupied the community for weeks, has a result so terrible that the author does not even tell the reader what it is till the end of the book. Both Protestants and Catholics alike are faced with troubles, including deaths, whenever the evil spirit is moved to act.
McCabe raises many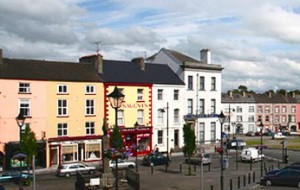 questions about the nature of good and evil here, but the amount of free will that his characters have is an open question as long as The Fetch or Nobodaddy is around.  McCabe also asks whether blaming a spirit ("the Devil made me do it") may be related to a lack of self-awareness, whether it reveals a person's ignorance about the people they think they know, or whether it shows that other community influences, such as the church (both Catholic and Protestant), family values, and traditional community values have outlived the times.  As he brings the novel up to the present, the mysterious evil spirit continues to play a role in the characters' lives, taking over souls, creating images (often sexual) which either horrify or (more often) electrify the repressed victims, and leading strait-laced community members to say and do what they really want to say and do and not what society has expected of them.  The conflict between Irish tradition and modern sensibilities has rarely been explored in such energetic fashion.
Those who are expecting a novel in which a single main character fights the forces of the unknown will be surprised, and possibly disappointed, in this one, but others will agree wholeheartedly with IrishCentral.com, which calls the book "dazzling and elegiac."  It is free-wheeling in its construction, bouncing around in its focus and apparent message, but I found it lively, darkly fun to read, and ultimately thought-provoking.  As Philip Womack says so cogently in his review in the [London] Telegraph (Oct. 11, 2010):  "Reading [Stray Sod Country] is a bit like stepping on a sea urchin: you don't realise the pain until afterwards and then you spend days picking out the spines."
Photos, in order: The author's photo is from http://www.swisseduc.ch
The first photo of Clones, the author's hometown, probably the model for Cullymore, appears on http://www.geograph.ie
A pub in Clones is seen on http://www.sundayworld.com
The last picture of Clones is from http://chooseireland.com