"Sunday, April 14, 2013: What you might call a stellar day for our [retirement] home yesterday: one stroke, one broken hip, and one near-asphyxiation on a butter cookie… Mrs. Sitta, seeing the toing and froing of ambulances, asked if bingo would be canceled. "Those of us who are fit shouldn't have to suffer on account of those who are not,' she brazenly declared. You'd almost wish that at her next bingo game she would have a stroke, break a hip, and choke to death on a cookie."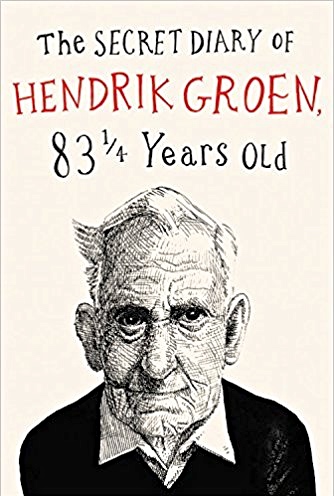 Hendrik Groen, age 83 ¼, a resident of an assisted living facility in the Netherlands, decides on New Year's Day, 2013, that he still doesn't like old people. "Their walker shuffle, their unreasonable impatience, their endless complaints, their tea and cookies, their bellyaching." He regards himself, however, as "civil, ingratiating, courteous, polite and helpful. Not because I really am all those things, but because I don't have the balls to act differently." In order to keep himself from spiraling into depression in the home, he has decided to give the world "an uncensored expose: a year in the life of the inmates of a care home in North Amsterdam." In case he dies, he assures the reader, he will ask his best friend Evert Duiker to read some passages from the diary, though he worries about what he will do if Evert dies first. And, of course, Evert's dentures are in poor shape, the result of a careless jab of a pool cue from another inmate, this one with cataracts. What follows is a diary unlike any other, as Hendrik Groen describes in detail just what life in a senior home in the Netherlands is like – the friendships and petty jealousies, the resentments, the full-time complaining, the physical ailments, and often, the sheer boredom of life which stretches on for some and is suddenly ended for others.
The contentiousness between the residents and the governing board, with its seemingly petty and inexplicable decisions, adds to the overall hostility while, at the same time, creating a sense of oneness among the residents, the us-against-them movement. The outright refusal of the administration to allow residents to have a copy of the regulations adds to the tension. Several different levels of need exist here, and the supervisor does not communicate with residents on issues they care about. Evert, Hendrik's best friend, lives in an independent apartment, while most others live in assisted units in which they take care of themselves but have their meals and most of their activities planned. A dementia unit assists those who need full-time help, and a medical unit handles end-of-life problems. Somehow, amidst all this, the facility is supposed to provide entertainment for these different groups, in addition to meeting their daily needs, though costs are an issue and cutbacks a constant fear. In the spring of 2013, Groen tells us, much of the entertainment was provided free on television, as the "Punch and Judy Show" of the coronation of new Dutch King Willem-Alexander and Queen Maxima took place.
An international bestseller when it was published in Europe last year, Groen's diary is written by an anonymous author (newly revealed, see Note at end), and it concerns itself with some of the same issues as were raised in the best-selling December, 2012 book, Mother, When Will You Finally Die?" by Martina Rosenberg, a memoir published in Germany.  Rosenberg's book, to which Groen refers in his diary, is the true story of a family in which both parents become seriously ill, and their daughter, the author, tries to be their primary caregiver for nine years. The despairing title of the Rosenberg book is in direct contrast with the significantly more upbeat, and often funny tale of old age from the point of view of the elderly residents of Groen's care facility in the Netherlands. The two books, however, raise similar questions of how different countries respond to issues of an aging population. Groen provides some analysis, emphasizing that most of the residents of his home have state pensions and some savings, and American readers will find his statistics astonishing: "According to the latest research in the Netherlands, just 2.6 percent of those over sixty-five are poor. Sixty-three percent even say they're managing to get by quite well." When one compares those statistics with the 10 percent of American elderly living below the poverty line, the role of each country's government in dealing with poor, old people becomes abundantly clear.
Despite the real information and the statistics which make this book both a fascinating and important study of old age in a different country, the book's primary purpose is to depict real life in this one care home, and the choice of recording it in a daily diary provides the reader with a plethora of insights and many humorous episodes. The diary is not didactic, and Groen's musings on what might happen in American nursing homes if "the oldies walk around packing loaded…rifles," shed additional light on one of this country's issues. "I haven't heard of any such mass shootings, but," he says with tongue in cheek, "at least with all those weapons, you don't have to jump through hoops to obtain that elusive euthanasia pill," euthanasia being another issue confronted here.
In Groen's facility, Groen and five friends form The Old But Not Dead Club, keep themselves busy by having each member take the others to an event – a museum, the casino, a winery, an artists' village at the beach. Several members also keep themselves amused by riding mobility scooters, and Groen becomes something of a hero for getting a ticket for speeding on the road. Groen draws the line, however, regarding an outside program called "An Outing with Grandma," in which local children are "rounded up to spend a day with some poor granny [or grandpa]" who would otherwise be alone. He has no interest in being in "the company of eleven- or twelve-year-old know-it-alls."
Ultimately, one of his friends begins to lose his toes from diabetes, another is diagnosed with Alzheimer's disease, and still another has an almost fatal stroke. As Groen's list of friends starts to decline, he tries to keep up his spirits, reminding himself that he might be able to go to the wine country next spring with some friends. He contemplates writing a novel, and though he has finished his diary, he decides he'd miss it if he stopped writing. He will go out to buy a new diary that very day. Thoughtful and often ironically funny, this is a book which should be read by anyone contemplating a move to a senior citizens' facility or anyone whose parents may be contemplating it. The issues raised are real ones, from the clique-ishness of the population to the difficulties of finding time and space to be alone, and the problems of living, full-time, with people who may have nothing in common with you except age. Much to think about, and much to laugh about here.
Note:  In Feb., 2017, Dutch News revealed the identity of Hendrik Groen, here:  http://www.dutchnews.nl
Photos, in order: The coronation of King Willem-Alexander and Queen Maxima is featured on https://www.pinterest.com/

Mother, When Will You Finally Die? by Martina Rosenberg, is available in German on https://www.amazon.de
Hendrik Groen enjoys riding a mobility scooter on the roads for fun.  He makes a distinction between mobility scooters, rollators, and Cantas, all of which are also used by some residents of the home.  https://www.ebay.co.uk
Groen refuses to participate in a program called "An Outing with Grandma/Grandpa," in which eleven- and twelve-year-old school children accompany residents of the home to places like the Maduro Miniature Park. http://www.3viajes.com/
Jetty Paerl, much beloved "wartime songbird," died in August, 2013,  and is noted in Groen's diary: "I doubt she will be mourned anywhere outside the nation's nursing homes."  http://elaguijonmusical.over-blog.es
THE SECRET DIARY OF HENDRIK GROEN, 83 1/4 YEARS OLD

REVIEW. Book Club Suggestions, Literary, Netherlands, Psychological study, Social and Political Issues, Humor

Written by: Hendrik Groen

Published by: Grand Central Publishing

Date Published: 07/11/2017

ISBN: 978-1455542178

Available in: Ebook Hardcover