Note:  Prolific author William Boyd has been WINNER of the Whitbread First Novel Award,  the Somerset Maugham Award, the James Tait Black Memorial Prize for Fiction, the Costa Award, among others, and was SHORTLISTED for the IMPAC Dublin (now International Dublin Literary Prize) in 2004.
"Brodie stood on the Molo…hands in pockets, staring out over the Adriatic with its silent migration of clouds.  This was the view which inspired him…[The Adriatic] looked like a boundless ocean, the distance-hazed horizon barely visible, the charge of light from the sea and the sky half-blinding him.  He liked to think of his presence here on this jutting stone promontory as a symbol of his journey's end."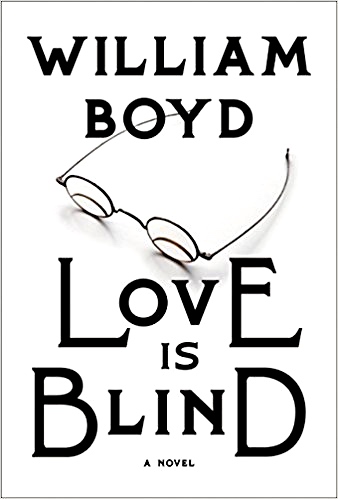 Love is Blind, British author William Boyd's thrilling new novel, reflects the kinds of excitements, revelations, and atmosphere so common to the great Russian romances of the nineteenth century.  Partially set in St Petersburg, this is a big, broad, romantic story which moves around the world as Brodie Moncur, a Scottish piano tuner, becomes totally consumed by his love for a married woman and follows his love throughout Europe.  Certain to appeal to those looking for well written literary excitement and fast-paced action, the novel will also appeal to those with a fondness for Russian novels.  Though I recognized, early on, that Boyd is mimicking the style of the Russian sagas, I am not an expert in Russian literature, and I discovered by accident, after I finished the book, that the novel is much more than the sum of its plot, characters, settings and love story. 
When I chose the quotation which opens my review of Love is Blind, I did not realize that the quotation I chose parallels the epigraph quotation on the novel's first page, a quotation about Anton Chekhov by his wife Olga Nipper-Chekhova.  In her own book, she tells of a play Chekhov was intending to write in which a scientist whose ship is icebound contemplates the grandeur of the night and the sky ablaze with the Northern Lights as he "sees the shadow of the woman he loves."  The parallels between the imagery of Olga Chekhova's quotation at the beginning of Boyd's novel, and my own coincidental choice of imagery for the opening quotation of this review made me do more research about author William Boyd and his familiarity with Chekhov.  It soon became clear that other surprising similarities exist between Chekhov's life and work and the action in this novel.  While these may be fascinating to literary historians, they are not necessary to the enjoyment of the novel.  Love is Blind is a big, broad story, partially set in St. Petersburg, a story of  a love which totally consumes the main character, just as it will, I think, consume most readers.
The Prologue is set in the Andaman Islands, in the Bay of Bengal between India and Myanmar in 1906, as a young ethnologist informs her sister that she has a new assistant, a thirty-five-year-old Scotsman named Brodie Moncur.  In Part I the novel then shifts back in time twelve years to 1894 in Edinburgh, where Brodie Moncur, age twenty-four, has been working for six years for Channon and Co., the fourth largest piano manufacturer Britain.  A skilled piano tuner with a flawless ear, he works for the best concert pianists in the country, sometimes traveling with them to tune their pianos on a daily basis.  When he is approached by the head of the company to go to Paris, he views this as an opportunity to escape his mean-spirited father, a conservative preacher.  Though he will be free in Europe, he will be working under the owner's son, who has taken an instant dislike to him.
Part II, the longest section, takes place in Paris, Geneva, and Nice from 1896 – 1898, as the characters are introduced, their backgrounds are explored, and their relationships develop. Brodie, soon begins making suggestions for improving the piano company directly to the owner, since his son has refused to agree to any of Bodie's proposed changes.  Eventually, Brodie is allowed to set up live piano concerts in the windows of the Paris store while also showing the insides of a grand piano to demonstrate its complexity and all its moving parts.  He also hires a concert pianist who will use Channon products and transport his own specially made Channon piano to his concerts, the action which leads to the rest of the story and its complications. He hires pianist John Kilbarron, whose his lover, Lydia Blum, a Russian known as Lika, agrees to accompany them on a tour.  Not surprisingly, Brodie falls deeply in love with Lika. Soon the two are meeting secretly, even as Brodie works diligently on Kilbarron's piano for his concerts.
Part III begins the "travelogue," which opens in St. Petersburg, Russia, where Brodie learns that he has tuberculosis.  A wealthy Russian girl pursues him even as he continues to meet Lika privately.  Eventually, of course, Kilbarron becomes suspicious, and Kilbarron's vicious brother Malachi plans revenge, going so far as to demand, and then conduct, a duel involving Brodie. Part IV, from 1900 – 1902, occurs in Biarritz, Edinburgh, and Nice, where Brodie resides during the winter to make his breathing less difficult.  He is still pursued, however, by Malachi, and no matter where he goes, he is followed, his life and that of Lika always in danger.  Part V returns to Paris, leading to a romantic crisis.  Part VI moves to Vienna, Graz, and Trieste, from 1902 – 1905, on the Adriatic.  Ultimately, Brodie goes to the Andaman Islands in the Bay of Bengal, arriving there in 1906.
This general summary and the continuous changes of setting illustrate the long commitment of Brodie Moncur to Lika Blum as he follows her around the world, and while she is full of paradoxes as she moves in and out of his life and that of John Kilbarron, his love is genuine.  The depictions of Europe and Russia during this period are fun to relive, and the information about the mechanics of the piano and its maintenance is far more exciting than one might expect.  The last hundred pages of this almost four-hundred page book are a bit of a letdown, compared to the love story that has occupied most of the book, but Boyd is letter perfect with his romanticism and his recreation of a Russian love story for most of the book.  Readers looking for a welcome break from the turmoil on television will find this novel to be a beautifully conceived and executed old-fashioned novel in which "love is [truly] blind."
Note:  Those who are interested in exploring more of the subtle references to the life of Chekhov in the novel will find Carys Davies's review in The Guardian particularly helpful. 
ALSO reviewed here:     ANY HUMAN HEART,      NATE TATE: AN AMERICAN ARTIST,      SWEET CARESS,     WAITING FOR SUNRISE,     TRIO
Photos:   The author's photo by Rebecca Reid appears on https://www.dailymail.co.uk/
The photo of the open piano is from http://www.countrypiano.com/
The night in Nice on the Promenade des Anglais may be found on
https://en.wikipedia.org/wiki/
The Vosnensky Bridge, near Brodie's elegant, seven-room apartment, reflects the changes in his status:  http://www.visit-petersburg.ru/
The Molo in Trieste is the scene of an epiphany by Brodie:  https://www.nauticareport.it/
LOVE IS BLIND

REVIEW. PHOTOS. England, Scotland, France, Russia, Literary, Historical, Psychological Study, Book Club Suggestion

Written by: William Boyd

Published by: Knopf

Date Published: 10/09/2018

ISBN: 978-0525655268

Available in: Ebook Hardcover