"I still don't know what made me climb the stairs to Alice Singer's 57th Street gallery.  It was June 1997, New York City…I was hot and tired and I wandered past dozens of unremarkable drawings and sketches…before I was held and shocked by something I had never expected to see.  It was a drawing, 12" x 8", in ink, mixed media and collage: Bridge no. 122.  I did not need a printed label beside it to know it was by Nat Tate."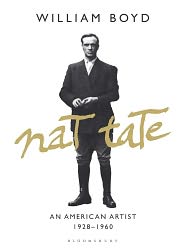 In this newly reprinted book from 1998, William Boyd details the life and work of Nat Tate, an artist whose work became highly sought-after in the 1950s.  One of the Abstract Expressionists in New York City during that decade, he could usually be found at his studio in the heart of the art district, at galleries, in conversation with Gore Vidal, Frank O'Hara or Peggy Guggenheim, or drinking with Jackson Pollock, Willem de Kooning, and others at the Cedar Tavern on University Place.  He traveled to Europe in 1959 and visited Pablo Picasso and Georges Braque, who became his idol.  Every one of his paintings sold almost immediately, most of them before the scheduled gallery openings even took place.  His most famous work consisted of over two hundred pen-and-ink drawings of the Brooklyn Bridge, in honor of his favorite poet Hart Crane's "The Bridge" cycle, and he had started a new series, also honoring Crane, called "White Buildings."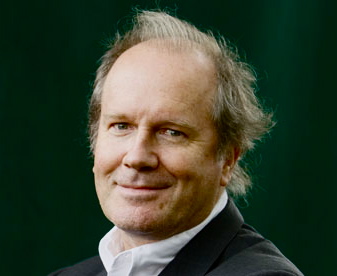 Then, unexpectedly, in January, 1960, at age thirty-one, he gathered together as many of his works as he could find and burned them.  At noon, four days later, he had a pleasant cup of coffee with Frank O'Hara and Todd Heuber.  At five o'clock that afternoon, midway between the Statue of Liberty and the Jersey shore, he jumped off the back of the Staten Island Ferry and committed suicide.  Hart Crane, too, had jumped off a ship in the Gulf of Mexico at age thirty-four.  Neither body was ever found.
This small book memorializing Nat Tate is William Boyd's homage to this forgotten artist. Looking very much like a fine art monograph about Nat Tate, the book boasts thick semi-gloss paper, wide margins, understated design, a great deal of white space, and many photographs of Nat Tate from childhood to his death, and his friends, family, and associates.  At a party to celebrate the publication of this memorial to Tate on April 1, 1998, several hundred artists, dealers, writers, and the glitterati of the New York art world gathered to hear publisher David Bowie read passages from the book.  Another party was scheduled for the book's London release a week later.
Then word leaked out:  Nat Tate never existed.  The book was a fiction created by Boyd, David Bowie, Gore Vidal, Picasso's biographer John Richardson, and David Lister, a journalist from the Independent in London.  Lister could not wait to post his scoop, jumped the gun, and the whole plan unraveled.
As Boyd explains in an article he wrote for Harper's Bazaar in April, 2011,  "It wasn't planned this way. Nat Tate was created out of a desire to experiment–to see if something entirely fictitious could experience a life in the world as something wholly credible, real, and true. I wanted to launch the book out into the public arena and see what would happen, to see who bought the story wholesale and who was suspicious. I wondered how long it would take for us to be rumbled. A month? Six months? A year or so?"
At the time, he explains, "I was on the editorial board of an art magazine called Modern Painters, as was David Bowie, which is how we met. With the editor's cooperation, I came up with the idea of creating an imaginary painter. However, his life would be tricked out with absolute authenticity: photographs, reminiscences, examples of surviving artwork."   They didn't, apparently, figure on the importance of a journalist's need for a scoop, and the plan fizzled.
Since the original publication in 1998, Boyd says, "The phenomenon has never stopped. There have been three TV documentaries about Tate. The biography has been translated into French and German and will be republished in the U.K. and the U.S. this month (May, 2011). In the 2010 TV dramatization of my novel Any Human Heart, Tate is played by the actor Theo Cross. And, even more bizarrely, the first authenticated Tate drawing to go on the open market is about to be auctioned in London."  Since Boyd himself always wanted to be an artist and has a collection of his own work in his own house, we can only hope that he feels happy with the Nat Tate work that will be sold.
Boyd says now that he "feel(s) a bit like a Dr. Frankenstein confronting his benign monster–not fearful but baffled, amused, and full of affection. Tate seems to have taken on a life of his own that has less and less to do with me. And once an artwork by this wholly fictional painter is bought for hard cash at auction, I suppose further that the whole hoax will have come full circle. Fiction and reality will have melded inexorably. Tate doesn't need me anymore; he's on his own. Nat lives!"
This is a fascinating turn of events, and I confess that as I was reading this book, knowing in advance that Nat Tate never existed, I really found myself wishing he had existed.  I wanted him to be a posthumous success.  I could think of many wonderful artists, people I know and love, whose work is every bit as good as that of much more famous artists, but who never made the publicity connection, or the connection to the right New York gallery, or who were not able to "play the game" to be famous and successful.  It is for those people that I wanted Nat Tate to be remembered.  Perhaps he will take on a new life.
Photos, in order: The author's photo by Andrew Crowley is from http://www.telegraph.co.uk
"The Portrait of K," by Nat Tate, along with a great article by William Boyd about how he came to write this book appears here:  http://www.harpersbazaar.com
"Bridge No. 122″ by Nat Tate is also from http://www.harpersbazaar.com
The detail of the portrait of Frank O'Hara by Alice Neel, in the National Portrait Gallery, appears on:  http://www.english.illinois.edu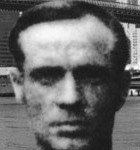 "Unnumbered Bridge," by Nat Tate is from http://www.harpersbazaar.com I have found this drawing haunting.  If you squint at the bottom center of the picture (to the left of the white sticker), you will see a man's face.  The artist might have used this photo of Tate from the cover of the book as his inspiration.
ALSO by Boyd, reviewed here:    WAITING FOR SUNRISE,     ANY HUMAN HEART,        SWEET CARESS,        LOVE IS BLIND ,      TRIO      Also, RESTLESS (Amazon review)